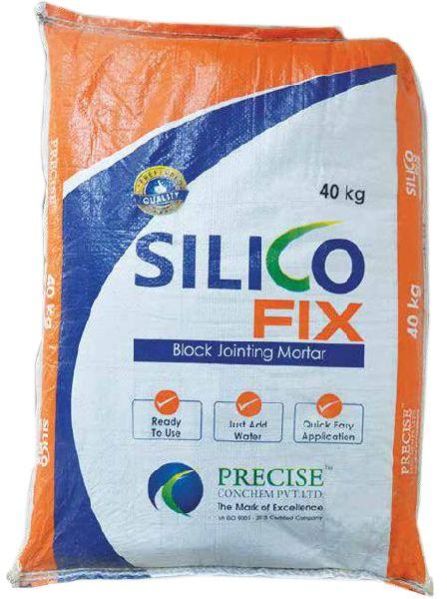 Business Type
Trader
Brand
Silicofix
Appearance and Color
Free Flowing Granular Grey Powder
Binder
Ordinary Portland Cement 53 with Pozzolanic Materials
Click to view more
Preferred Buyer From
| | |
| --- | --- |
| Location | India ( Rajasthan) |
Product Details
Filler is River Sand
Processed Fine Aggregates (Purified, Graded And Proportioned River Sand)
Water Demand
Approximately 8.00 Litre to 9.00 Litre per 40 kg bag (20% to 23%)
Bed/Joint Thickness
2 mm to 3 mm
Dry Density
1.55 Kg/Litre
Wet Density
1.80 Kg/Litre
Compressive Strength
> 7.50 N/mm²
PRODUCT FEATURES
Easy to apply. Single Component Polymerized Drymix Block Jointing Mortar
Only the required quantity of water needs to be added at site.
Joint bed thickness of 2 mm to 3 mm only.
Quick-drying & Rapid setting.
High Water Resistant Mortar due to perfect compaction - Provides water-tight block joints.
Better water retention properties.
Water curing is not required after application.
Reduced Shrinkage.
No raking of joints is required before plastering
BENEFITS
Higher productivity – Fast setting mortar allows continuous laying and takes less time than conventional mortar combined with good workability and spreadability of mortar.
Increases speed of construction – only 24 hours required before next stage like plastering, coating etc.
The quick setting properties of the mortar eliminate any restriction on the height of walls that can be built in a day.
Improved flow/"spread under the trowel," workability, water retention and open time, shrinkage reduction and improved bond strength because of the addition of Proprietary Additives in the formulation.
Eliminates the need for bulk sand and cement storage at site. 80% storage space is saved at site.
More Cost-effective since lesser quantity is consumed with negligible wastage.
Better water retention properties and is Self Curing.
Seepages and water penetration through joints are negligible.
Provides solid robust walls with improved overall construction quality.
Gives better adhesion, more stability and durability.
Improved build accuracy of finished walls.
Additives
Performance-enhancing Proprietary additives to improve
Spreadability & Workability 
Strength & Durability
High Bond Strength
Non – Shrinkage
Water-Resistant
Water Retention
Practical Consumption
Around 120 sq.ft. to 130 sq.ft. for 4" AAC block wall. Around 80 sq.ft. to 86 sq.ft. for 6" AAC block wall.
This may vary from site to site and from applicator to applicator
Read More...
COMPARISON WITH TRADITIONAL METHOD
| | | |
| --- | --- | --- |
| Parameters | Traditional Method | SILICOfix |
| Joint thickness | 10 mm to 18 mm | 2 mm to 3 mm |
| Drying time & Setting time | Slow | Rapid |
| Height of build | Restricted | No Restriction |
| Precision | Less | More |
| Airtightness | Less | More |
| Strength | Joints are weak points | Joints are stronger |
| Shrinkage | Yes | No |
| Stability | Less Stable | More Stable |
| Material Storage Space | More | Less |
| Aesthetics | Uneven, with variations | Even and better laying |
Looking for "
Block Jointing Mortar

" ?